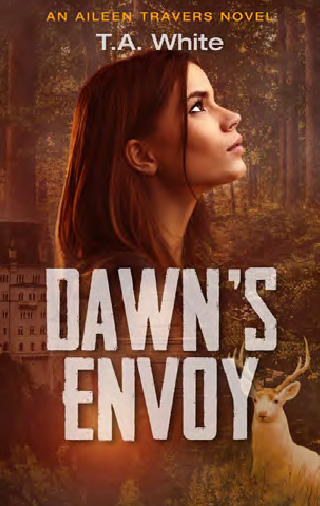 The Aileen Travers Series
Dawn's Envoy
Book 4
A favor owed, a hunt like no other.

A courier for the shadow world no more, Aileen's former protection is gone. Alone but still defiant, she survives one night at a time.

When the darkly seductive Liam calls in a favor, she'll find her carefully constructed world tilting on its axis as he draws her into a dangerous game against a wily enemy. The High Fey—creatures as powerful and beautiful as they are deadly—have come to town, their motivations unclear as lines are drawn and shadowy alliances made.

And with them, they bring their Wild Hunt where everyone is either predator or prey. Betrayed and marked as its quarry, Aileen will find surviving until dawn has never been this hard.

The only thing that might save her—are the vampires she doesn't trust.
Check out the excerpt.
The Aileen Travers Series
What Readers Say
One of the easiest and best ways to support an author you love is to leave a review. Post one now on any platform.
OTHER Books in the Series
The Aileen Travers Series
She thought her life had taken a hard turn to crazy town when she woke up in the morgue sporting a new set of fangs. Turns out that was just the beginning.
Sign up for my mailing list
Subscribe to T.A. White's newsletter for updates on the latest release, excerpts, news and more.
Start reading now!